---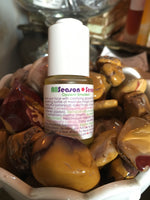 ALL SEASON OPULENT SERUM ~ LIVING LIBATIONS
All Seasons Opulent Serum 
Moisture for all seasons. Perfect for balancing the skin
"Anoint your face with clarifying grace! Living Libations All Season Serum is an elegant elixir for all skin throughout the seasons. This balancing, nourishing bottle of moisture-magic is brimming with beautiful botanicals specifically chosen for their skin-abilities. Whether winter has chiseled dryness into your cheeks or summer has humidified the semblance of your skin, this serum sinks in to revive your skin."
This smoothing serum for all seasons is a deep drink of luscious lipids: Camellia, Jojoba, Sandalwood, Myrrh, Frankincense, Immortelle, Ylang, Rockrose, Verbena, Fragonia and Lemon join forces to turn back the clock, drench dry skin, harmonize humidity, balance oil production, and lift the spirits.
Whether you need to grace your face with tender TLC, restorative moisture, protection from drying stressors or age-defying power, our All Season Serum holds the key to skin harmony.
Directions: Apply a few drops day and night after washing skin with a Best Skin Ever. Balancing for all skin types
Available in 15 ML size 
FINAL SALE